Our Latest Course
Chiropractic Job Advert Writing: Free Webinar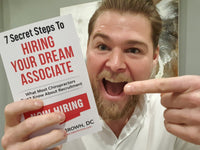 Our book is now available: 7 Secret Steps to Hiring Your Dream Associate.
The main purpose of this book is to give you the best chance of finding the right chiropractic associate for your practice because it is not easy. We need to know how to monetize and how to measure our gross profits, net profits, and profit margins so that we can work out exactly how much we can pay our employees. Otherwise, we may end up out of pocket or working harder just to cover the wage of our associates.
You can purchase this book on Amazon USA and UK.
How to access your course