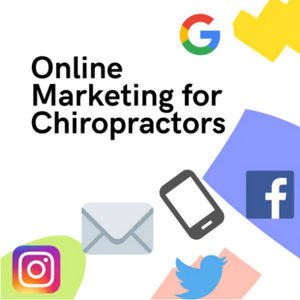 This course is now available on-demand
Ready when you are
Are you new to the profession? Do you want to improve your CV and become more employable? 

OR are you a practice owner looking to grow your business? 

Whether you are a practice owner/ associate (or even associate to be) this course will give you insight into the best marketing trends in the industry. 

At college, we are taught how to provide excellent patient care. However, getting new patients through the door can often be challenging. Marketing and online presence are increasingly important when creating a loyal patient base. With the current climate, online marketing is one of the only accessible ways to promote our healthcare services. 

We've partnered up with Chiropraise to bring you an exclusive deep dive into online marketing for Chiropractors. This course is essential in helping identify areas of improvement within any Chiropractors marketing strategy. What's even better? You can complete it from the comfort of your own home and within your own timeframes. 

The online course will cover:
Online Business Listings
Reviews
Social Media
Brand
Website
Advertising/Sales Funnels
Live Events
Search Engine Optimization (SEO)
Tracking/Metrics
Automations
About Chiro Praise

Chiropractic Jobs Online has partnered with Chiro Praise to bring you a tailored course on Online Marketing for Chiropractors. 
Chiropraise is your full-service outsourced marketing team. With a wide array of services, our experience and knowledge in the industry can help your practice scale and maintain continual growth above your competition. 
Your Host: Matt Queen

After experiencing the life-changing power of Chiropractic, Matt made it his mission to help expose the world to the benefits of Chiropractic care through digital marketing, founding ChiroPraise, a boutique hands-on marketing agency dedicated specifically to Chiropractors in 2015.

Matt ...
Has helped hundreds of Chiropractors across the country and globe get their messages out to the masses, growing their practices and impacting their communities
Spent over 7 figures in chiropractic ads on Facebook advertising alone, helping bring thousands of new patients to the life-changing practice of chiropractic
Has built hundreds of highly converting websites through advanced SEO strategies and the latest in online technology
Served as a technology consultant for over 15 years for Fortune 100 businesses, non-profits, and government sectors like the US Treasury and Department of Energy, giving him insight into many aspects of business and eCommerce
Hailes from St. Louis, MO with his wife and 3 children, the source of his WHY

Since Matt has been singularly focused on Chiropractors for the past 6+ years, he has had the luxury of learning what works best in bringing Chiropractic care to the masses. He'll share his wealth of knowledge, using many tips and tricks with actionable items you can implement into your practice immediately!

What's included in my ticket?
Full webinar programme
Instant Access
Downloadable Slides
Q&A (pre recorded - opportunity to email host with questions)
Run time: 1 hour and 40 minutes (Stop start as you please)
How to access me
 Hit buy> Create account > purchase> navigation menu > your courses > select course > watch and learn!